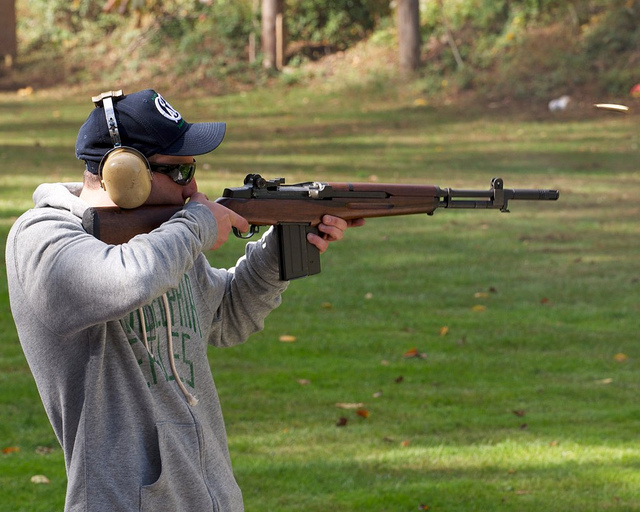 A school board in Massachusetts has voted against arming teachers in the classroom as a response to shootings on school campuses. The Department of Elementary and Secondary Education, an eleven-member board, voted unanimously against a proposal to arm teachers in Massachusetts schools, arguing it could make schools "less safe."
The resolution has no legal or regulatory authority, but the panel hopes by voting against the measure a message is sent to other states. The Department of Elementary and Secondary Education rarely takes stances on policy proposals.
Massachusetts State Education Secretary Jim Peyser welcomed the move, saying arming teachers is "not in the best interests" of children. "We need to make sure that we don't get distracted from that important work by symbolic, ineffective and, I'm afraid, ultimately irresponsible proposals like the one that's been put forward — the proposal for arming teachers," he said.
He also expressed concern about whether teachers would be able to respond properly to an active-shooter situation even if armed. "You need training on an ongoing basis, and teachers just are never going to be that well-trained. Even if they're trained [on how to use] a firearm, they're not going to be trained in the practices they need to be effective in those situations," he argued.
The board echoed the sentiment saying teachers are recruited based on their teaching and education skills, not on their "skills as a security officer."
Nearly 200,000 people descended on Washington D.C. last Saturday for the March For Our Lives march for gun control. The march was organized by survivors of the deadly shooting at Marjory Stoneman Douglas High School in Parkland, FL, last month. The Massachusetts board took the resolution to arm teachers up after being "deeply troubled" by the Parkland shooting.
Some organizations estimate that more than 850 events took place all over the world on Saturday, including in all fifty U.S. states. Marchers in countries as far away as Israel, New Zealand, Australia, the U.K., Japan, Belgium, India, France and Chile also participated. There was even a rally in Antarctica.
Outcry from students, parents, teachers and lawmakers has failed to spur Congress to enact sweeping changes to gun control laws many are requesting however.
The White House unveiled a framework of measures and initiatives aimed at reducing gun and school violence in the U.S. last month, which included "rigorous" firearms training for "specially qualified" school personnel with the help of the Department of Justice and local law enforcement.
The administration has also established a commission to find the best and most workable solutions to gun violence in schools. The commission is to be chaired by Secretary of Education Betsy DeVos and will look at "hardening" the nation's schools through the arming of teachers as well as possibly raising the eligibility age to purchase firearms.
"I am humbled to chair the Federal Commission on School Safety which will help bring forward solutions and identify best practices from state and local communities that will truly work to keep students safe," DeVos wrote on Twitter after the announcement.
No timeline for the commission was announced but administration officials expect its recommendations to be implemented in schools within the year.
Legislation that bolsters the nation's firearm background check system and provides federal funding to states to address mental health issues and anonymous reporting systems for violence, as well as funding for physical fortifications like metal detectors and response technologies for law enforcement, was included in a massive spending bill signed into law last week.
Other measures, including bills expanding background checks and issuing protective orders against gun possession, have also been introduced in Congress. It is unclear though, when, or if, any additional gun-related bills will be voted on in Congress.
Photo by Amy Buser via Flickr