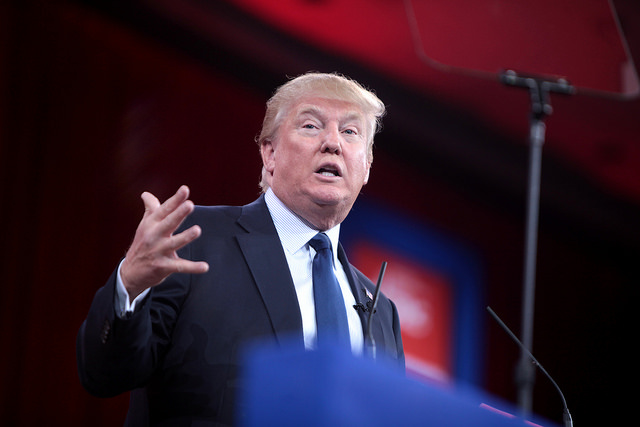 President Trump indicated that the U.S. would be ending its military presence in Syria very soon, contradicting past statements and policy from top advisers and cabinet officials who have indicated that the U.S.' presence in the Middle Eastern country should not end abruptly.
"We're knocking the hell out of ISIS. We'll be coming out of Syria, like, very soon," the president told a crowd in Ohio yesterday. "Let the other people take care of it now. We got to get back to our country where we belong, where we want to be," he said.
Syria has been involved in a brutal civil war since 2011. Lack of government control has allowed vast swaths of territory to be taken over by extremist groups, most notably ISIS, which has set up its global headquarters in Raqqa, a city about 100 miles east of Aleppo.
The Trump administration has made significant progress in the fight against ISIS. The terror group has lost almost all of its captured land in Syria over the past year. The President believes that progress will provide reason to cease combat operations in the country and bring troops home, but members of his administration have indicated that U.S. interests in Syria extend beyond defeating the extremist group.
Both former Secretary of State Rex Tillerson and current Secretary of Defense James Mattis have argued the U.S. needs to remain engaged in Syria to prevent unwanted influence from other countries like Iran from filling any vacuum. They're also wary of an emergence of another terror group taking ISIS' place, or a reemergence of ISIS itself after U.S. troops leave.
The U.S. "will maintain a military presence in Syria focused on ensuring ISIS cannot re-emerge," Tillerson said in a speech in California in January. "We cannot make the same mistakes that were made in 2011 when a premature departure from Iraq allowed al-Qaeda in Iraq to survive and eventually morph into ISIS," he added, alluding to the Obama administration's decision to pull U.S. troops out of Iraq.
Trump and Tillerson did not see eye-to-eye on many issue, but even Tillerson's replacement, former CIA Director Mike Pompeo, believes in an extended U.S. presence in Syria to counter Iranian power. "We're working diligently to find the right approach to counter the incredible spread of Iranian hegemony throughout the Middle East," Pompeo said during an interview earlier this month.
The U.S. currently has about 2,000 troops in Syria. Many of them are Special Forces that are consulting with, and training, Kurdish and other Arab militias in their fight.
Adding to an incredibly complex situation is strong Russian support for Syria's Bashar Assad regime which has brought conflict between forces backed by the U.S. and forces backed by Russia and Iran very close.