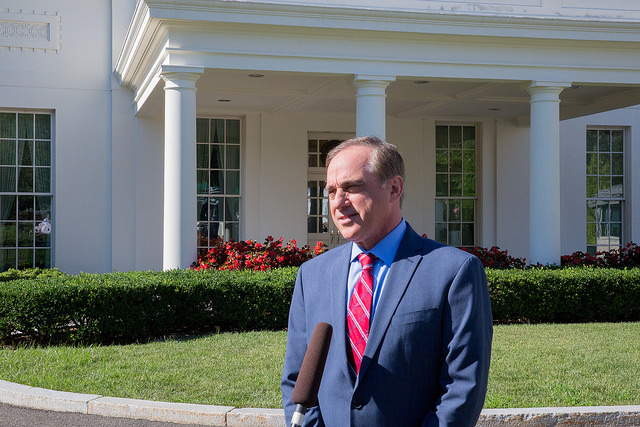 Recently fired Veterans Affairs Secretary David Shulkin is alleging he was forced out of his job because members of the Trump administration secretly want to privatize the VA, something Shulkin opposed. Shulkin made the statements in an op-ed for The New York Times after being fired.
"I believe differences in philosophy deserve robust debate, and solutions should be determined based on the merits of the arguments. The advocates within the administration for privatizing V.A. health services, however, reject this approach," Shulkin wrote.
"They saw me as an obstacle to privatization who had to be removed. That is because I am convinced that privatization is a political issue aimed at rewarding select people and companies with profits, even if it undermines care for veterans," he added.
Shulkin argues that the VA is better suited to handle the volume and complexity of military cases than private industry.
"The private sector, already struggling to provide adequate access to care in many communities, is ill-prepared to handle the number and complexity of patients that would come from closing or downsizing V.A. hospitals and clinics, particularly when it involves the mental health needs of people scarred by the horrors of war," Shulkin writes.
"The department's understanding of service-related health problems, its groundbreaking research and its special ability to work with military veterans cannot be easily replicated in the private sector," he wrote.
Shulkin was fired on Wednesday after weeks of rumors swirling about this future. Longtime Trump friend and confidant Chris Ruddy, the Newsmax CEO, put Shulkin chances of being pushed out this week at "50/50," during an interview Sunday. He had been under fire for months as scandals clouded his tenure and high-ranking officials at the VA staged an unprecedented rebellion.
An investigation by the VA's inspector general found that Shulkin's chief of staff, Vivieca Wright Simpson doctored an email sent to an ethics lawyer to show that Shulkin was getting special recognition or an award during a trip to Denmark and London last year. The statements allowed Shulkin's wife to accompany him on the taxpayer funded trip.
Shulkin apologized and reimbursed the government more than $4,000 for his wife's airfare in that case. He is also seeking to reimburse a British veterans' advocate for tickets to the Wimbledon Tennis Tournament that he and wife improperly accepted while on that trip.
A second internal investigation due out in the next couple of weeks was looking into complaints that Shulkin ordered a member of his round-the-clock security detail to accompany him to Home Depot store and carry furniture items into his home.
Shulkin was also facing what appeared to be an extraordinary mutiny from VA officials serving under him. He refused to comment on events he'd called "subversive," but political appointees installed by President Trump had openly discussed terminating Shulkin. A top communications official has taken an extended leave in the wake of a secret and failed attempt to turn lawmakers against him.
Shulkin had drawn the ire of White House Chief of Staff John Kelly as well, for repeatedly turning to the media to talk about problems at the VA as well as claiming unwavering support from the White House in internal battles at the agency. Kelly has made it clear that is something Shulkin did not have.
The President came to view Shulkin's tenure as a distraction and began weighing replacements. Among the names that were being floated were former Service member and CEO of the conservative Concerned Veterans for America Pete Hegseth, and retired U.S. Army Lt. Gen. Keith Kellogg.
The President decided instead on Dr. Ronny Jackson. Jackson has served as physician to the president since 2013.
Shulkin said that he and President Trump had spoken earlier in the day on Wednesday but that the Trump did not mention his firing. Shulkin said he learned of his termination when Kelly called him later and told him minutes before the President made the announcement on Twitter.
Shulkin had boasted of a personal chemistry between he and the President just months earlier when in November he told the Washington Examiner, "I think that for me, it's just a good management style fit. When we're together, he's very candid, he's very inquisitive, he understands the issues very well, and we are able to have direct conversations. It's not a lot of formality. I mean, it's — I appreciate that, and it helps me in performing my job better."
The White House pushed back on claims that Shulkin was ousted over agency privatization. White House spokesman Raj Shah said that administration had taken steps to "modernize" the agency, but he said, "There are no discussion about privatizing."
Photo: Former Veterans Affairs Secretary David Shulkin by The White House via Flickr