Pro Police Rally in Wantagh, Long Island and no News Networks there???? pic.twitter.com/Q9EvuDWUN7

— Tony Mastro (@mrmastro7) July 5, 2020
"Back the Blue" rallies in support of the nation's law enforcement officers have sprung up all over the country in recent days and weeks. Although, there has been little coverage of it in the news.
Amazing to see so many people turn out to #BackTheBlue. This photo was taken in Wantagh a pro-police rally today. The "silent majority" is starting to speak! These need to happen across the country. Spread the love and positivity for all those who badge up every day! #irishangel pic.twitter.com/amZA85N86l

— Blue Irish Angel (@BlueIrishAngel) July 5, 2020
This past week over 1,000 people gathered for a march in support of police officers in Wantagh, NY. Rallies in Omaha, Nebraska and Fredericksburg, Virginia, also took place this week with reports of hundreds of attendees.
In Boise, Idaho yesterday, 600 people turned out for a Defund The Police rally

BUT the silent majority turned out 3,000+ Pro-Police protesters, outnumbering society's dividers by 5 to 1.

C'mon Scotland's anti-divisive, non English-hating silent majority
Be inspired 👣🗣️💡🌡️🌈 pic.twitter.com/9foT8cLe3I

— BRRSC (1517) #D2BU #NoScexit #No2SNP #441 #1UK1Gov (@BRRSC) July 9, 2020
Vice President Mike Pence addressed a Back the Blue rally in Philadelphia on Thursday. "Under this president and this administration, we are not going to defund the police. Not now, not ever," Pence said.
Pro police and anti-police protests outside @FOPLodge5 where @VP Mike Pence is speaking. @FOX29philly pic.twitter.com/5hbNavgPcm

— Chris O'Connell (@CoconnellFox29) July 9, 2020
"We also don't need to choose between supporting our police and supporting African American families here in Philadelphia or anywhere in America. We can do both. We have done both," he added.
At a rally in Brooklyn, NY, yesterday, nearly 400 people rallied in support of the NYPD, which has been besieged in recent weeks. Protesters were met with a handful of Black Lives Matter counterprotesters who chanted slogans at them, but the interaction quickly died out.
Video of the march was inoperable on abc7ny.com, the local ABC affiliate station.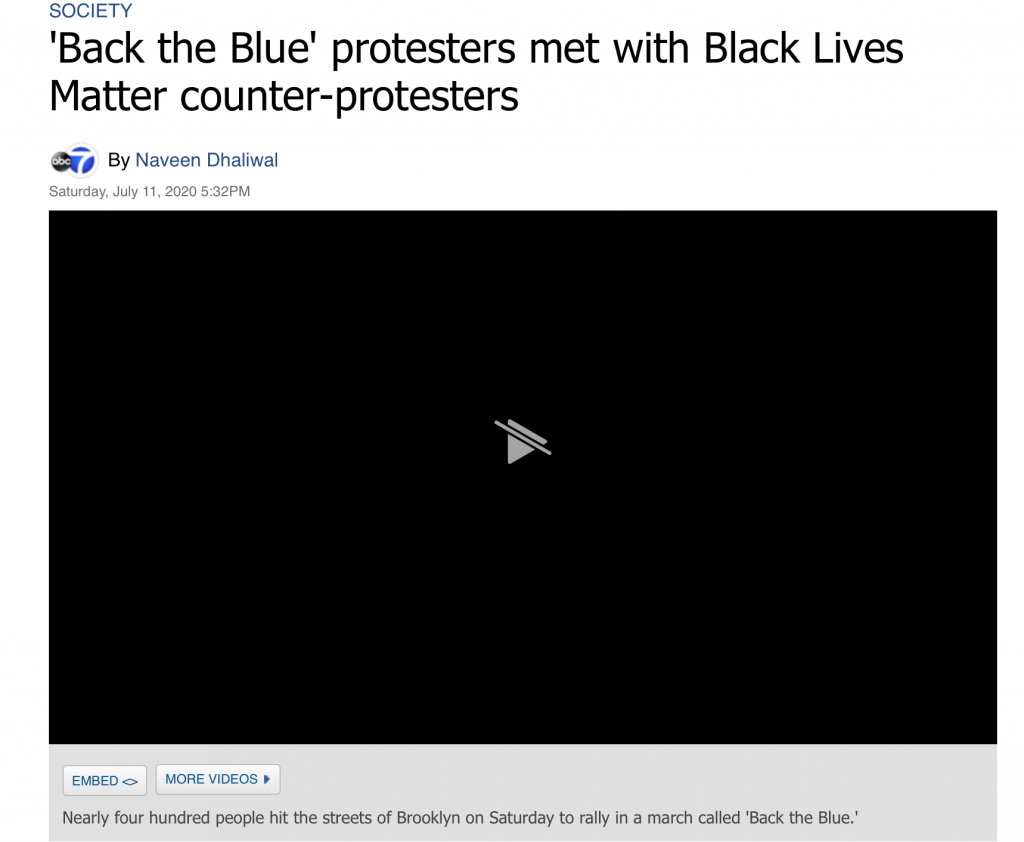 But you can see footage of the protest, as well as the verbal altercation between protesters, here.