The higher education "bull market" is over. Forecasters predict 20% of colleges and universities will shut down or merge within the next ten years.
Covid19 has exacerbated already declining enrollment numbers and deteriorating finances.
Education costs had reached unsustainable levels in this country – the student debt in the U.S. has reached a crisis level at $1.6 trillion.
To wit, a 155-acre campus of Green Mountain College, a private liberal arts college located in the historic downtown of Poultney has gone on the auction block. The starting bid is $3 million.
"This quintessential New England campus had been the home of Green Mountain College, a private 4-year liberal arts school focused on environmental, social, and economic sustainability, which unfortunately closed at the end of 2019," stated Keith Lowey of Verdolino & Lowey, the Chief Restructuring Officer for Green Mountain College.
"It's truly a turn-key opportunity for the right buyer as it is comprised of classic New England dormitory buildings, classrooms, administrative offices, lecture halls, cafeteria, student center, community space, library building, athletic facilities- including fields, gymnasium, pool, and more, a 400-seat theater/auditorium, fine arts studios and galleries, a working farm, guest residences, and a campus-wide wood-fueled biomass (carbon neutral) heating system." Lowey then added, "In 2016, the property was appraised at $20m. There are also favorable financing options available for qualified buyers with $3.2m being the next bid increment accepted."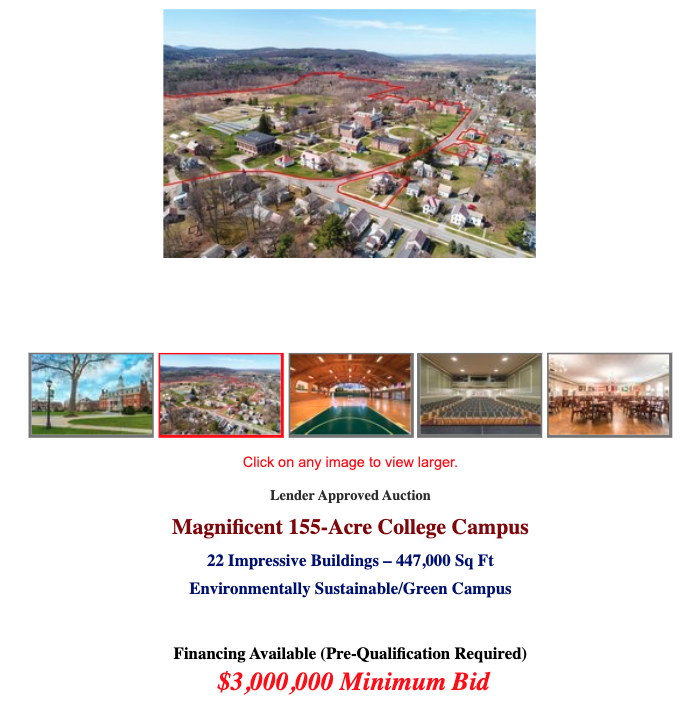 Unfortunately (or fortunately depending on your point of view), this may not be the last story like this that we see.
The auction is set to take place on August 18, around 1:00 p.m.