El resultado de la encuesta que hicimos a los usuarios de Twitter después del debate vicepresidencial dio el siguiente resultado.

El tuit se borró por error, lo compartimos de nuevo. 👇#VPDebate #debates pic.twitter.com/rlA19JgE4E

— Noticias Telemundo (@TelemundoNews) October 8, 2020
A poll conducted by the Spanish-language Telemundo network asked viewers to respond with who they felt won last night's vice-presidential debate.
It wasn't even close. Viewers overwhelmingly felt VP Mike Pence handily defeated Harris. The margin in the poll was 76% to 24% in favor of Pence, with close to 15,000 people voting.
That may not have been the result executives at Telemundo were hoping for because the tweet showing the results was deleted at some point after.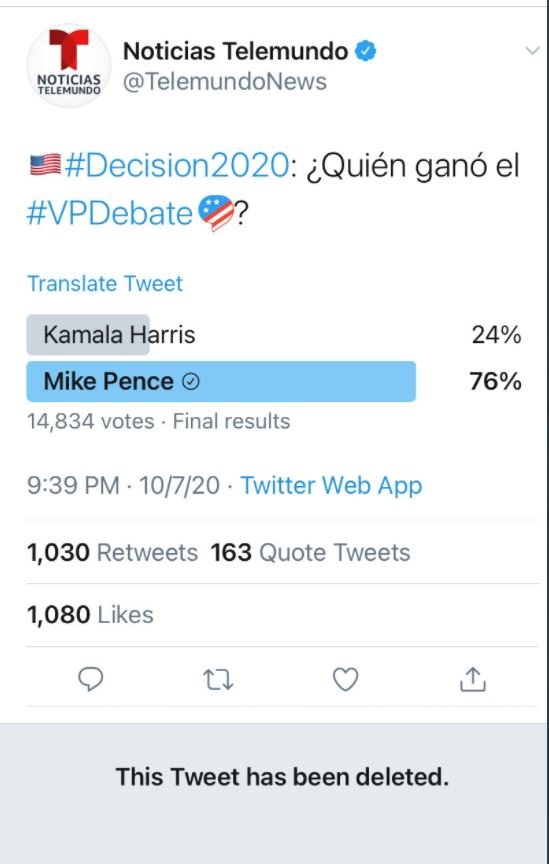 After some media outlets picked up on the missing results this morning, the network republished the result of the poll and claimed the original tweet was deleted "by mistake."
"The result of the survey we did to Twitter users after the vice-presidential debate gave the following result. The tweet was deleted by mistake, we shared it again," a rough translation of the tweet reads.
Several Spanish-speaking users were not convinced, however.
"Por Error" pic.twitter.com/cqijvgBjQ3

— José Atencio J. (@MrTolix) October 8, 2020
Claro, puro error, of course…

— Ángel Mauricio Ávila Alfaro (@MauricioAzk) October 8, 2020
por error…😂

— Patucman (@patucman) October 8, 2020
Por error 😅

— J🚫 (@Josemob17) October 8, 2020