Speaker of the House Paul Ryan was heavily criticized on social media yesterday after he tweeted about the benefits of the GOP-passed tax overhaul, saying that a Lancaster, PA woman was pleasantly surprised to see an extra $1.50 in her weekly paycheck.  Ryan was referencing an Associated Press story outlining the effects of the law on corporations and employees.
The woman, a secretary at a public high school, reportedly told reporters the increase would cover her Costco membership for the year.  Ryan deleted the tweet thereafter.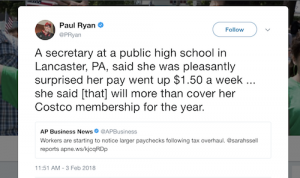 Social media users criticized Ryan for portraying a raise of $1.50 a week off as a sizable benefit compared to the billions of dollars corporations have received.
Republicans are proud of themselves for [checks notecard….adjusts glasses….squints] someone making .21 cents more a day? https://t.co/qMne593S3M
As a thank you for passing a $1 trillion corporate tax cut, Paul Ryan received $500,000 in campaign contributions from the Koch brothers, which would probably cover the cost of buying a Costco. https://t.co/piiWqzOEGo
A war of words has erupted on Capitol Hill over the size of the benefits that corporations are giving to their employees.  Democrats are calling them "crumbs" compared to what corporations are getting.  Republicans, including the president and vice president, have said that the bonuses are meaningful.
Over 300 companies have announced bonuses, raises or other compensation benefits as a result of tax law.